Who Are We?
Abundant Life Fellowship is a place where you can connect with people of faith who will become brothers and sisters in Christ. Each service is filled with meaningful praise and worship music as well as timely messages straight from God's Holy Word, the Bible, that will help you endure and stay true to Jesus Christ in a chaotic world. We are a non-denominational church preaching and teaching all of God's Word. Our goal is to represent the love of God in such a way that people have a growing and living relationship with Jesus Christ.

While we believe in teaching the un-compromised Word of God, the character of Abundant Life Fellowship hinges on three basic principles found in John 4:6. "Jesus said unto him, I am the Way, the Truth and the Life. No man comes unto the Father but by Me"
ABUNDANT LIFE FELLOWSHIP CARES MORE ABOUT YOUR ETERNAL LIFE THAN YOUR TEMPORARY LIFE! SO COME BE PART OF A CHURCH THAT CARES ABOUT YOU AND DISCOVER THE JOY OF KNOWING JESUS CHRIST!
Come as you are! Come expecting to hear from God! Come to hear God's Voice - So you can be God's Voice in a lost and dying world! We look forward to seeing you soon!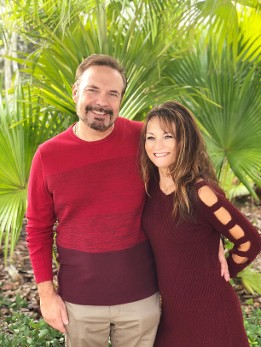 Who are Pastor David and his wife Theresa?
Before coming to Abundant Life Fellowship in 2008, Pastor French had ministered for over twelve years in four Assembly of God Churches in the Midwest and Florida, graduated with a Bachelor's of Arts Degree from Trinity Bible College located in Ellendale, North Dakota and he also has a two year Bible Certificate from Berean College of the Bible located in Springfield, Missouri.

Theresa also took Bible classes at Berean College of the Bible and at Trinity Bible College. She also received her Christian Counseling Certificate from Suncoast Bible College located in Branford, Florida and has received the Associates of Arts degree in Theology from Peace Makers Institute of Theology in Sioux City, Iowa.

Our goal is to become a multi-racial body of Spirit-filled believers with the staff and facilities to adequately fulfill the vision God has given us. We desire to reach as many people as possible with the life-changing Gospel of Jesus Christ.