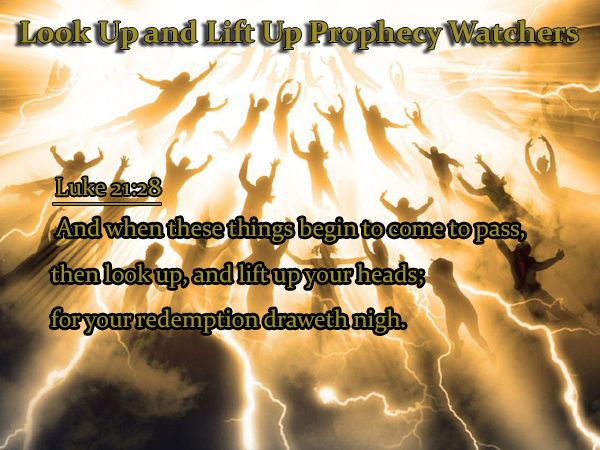 Look Up and Lift Up Prophecy Watchers
Bible Study and Discussion Group
The Look Up and Lift Up Prophecy Watchers Bible Study is the only Bible Study in the area that deals specifically with the End Times. Not only does this Bible Study cover the End Times Prophecies from God's Word but it also deals with current events that are taking place daily that are fulfilling these prophecies. This dynamic Bible Study also includes End Time Videos and Movies that help enlighten the truths of God's Word concerning the very times we are living in.
This Bible Study is led by Pastor David French who has spent over 25 years studying and teaching Eschatology ( the study of End Times). This Bible study freatures topics such as:
The Rapture of the Church
The Tribulation Period
The Signs of the End Times
The Growing Apostasy
The End Times False Prophets and Teachers
The Anti-Christ
The Mark of the Beast
The Coming Great Deception by the False Prophet And many other End Times Topics!
Please come join us every Wednesday evening at 7:00 PM for one of the most exciting and informative Bible Studies and discussions concerning the End Times you will ever take part in. Bring your Bible, a pen and highlighter and discover why we are "The Revelation Generation" and why we believe Jesus is returning for His Church very soon. Invite Family and Friends to come with you so they can hear these vital messages!
ARE YOU READY TO VOLUNTEER?
Volunteer to one of our programs today!